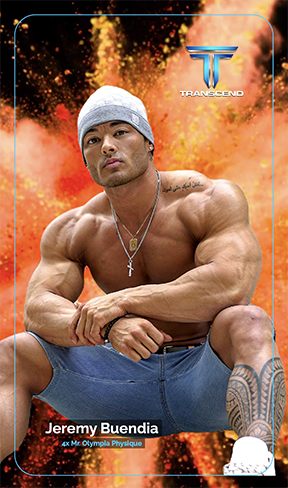 Jeremy Buendia is an IFBB professional bodybuilder and 4x Mr. Olympia Physique!
Jeremy has been competing professionally within the International Federation of Bodybuilding and Fitness (IFBB) since 2013, where he placed 2nd in the Mr. Olympia Men's Physique class.
He subsequently earned the Men's Physique Olympia title in 2014, 2015, 2016, and 2017. He placed 4th in the Men's Physique Olympia 2018.
Jeremy Buendia was recently married and dedicates his time to his beautiful baby daughter, his wife, and his family.
Under the guidance of top physicians and medical professionals, Jeremy is returning to physical form with intense therapy, an unparalleled work ethic, and a newly optimized commitment to excellence!
Follow Jeremy Buendia on his Instagram page as his incredible and inspirational journey continues! @Jeremy_buendia
🔥CHANGE YOUR LIFE TODAY!
Transcend's elite wellness specialists will help you get started on the path towards feeling better!
Fill out the short INTAKE FORM to begin the journey of becoming your best self!
…or Call 248.520.5407 today!