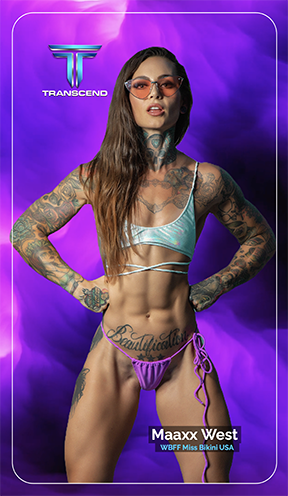 Maaxx West is a Content Creator (Photographer / Videographer) with over 17 years of experience creating amazing and eye-catching content for herself and her clients.
Maaxx is originally from Gothenburg, Sweden,  and has been running her own businesses since the age of eighteen.
After moving to the US, Maaxx became the Photography Manager and later Creative Director for one of the biggest supplement companies in NYC.  She then moved to Miami, FL to rebuild her own name and brand.
Maxx runs her own Media Company – Bustamante Media – she is also one of the owners of Olympus Lyfestyle and owner and founder of Infinity Fit (workout equipment) and owner, coach and trainer at MW Fitness.
During her years in NYC Maaxx worked as a personal trainer for super models, training them  to get ready for the runway. She also assisted in productions for big Fashion Magazines.
In 2020 Maaxx started competing in the WBFF and won the Miami show awarding her the title of "WBFF Miss Bikini USA". She is now in prep to compete in WBFF Worlds in Las Vegas in 2021.