PUT YOUR HAIR LOSS IN THE HANDS OF THE PROFESSIONALS.
We offer the best available medications clinically proven to help prevent and reverse hair loss. Get started with advanced hair restoration treatments from the hair loss specialists at Transcend. We have the best cost options in the industry for mitigating hair loss including minoxidil, finasteride, designer combination medications, and more!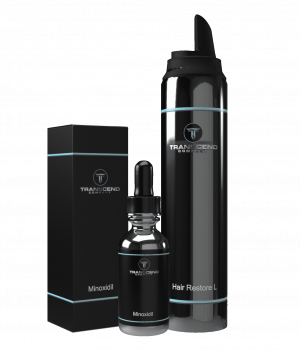 Hair loss can be hereditary  and can also be caused by hormonal imbalance, medications, illness, Alopecia, age, stress, hair care products, and more.
Male pattern baldness occurs when longer, darker hairs that once grew on the scalp are replaced by thinner, shorter, less pigmented hairs. This is due to dihydrotestosterone (DHT), a hormone derived from testosterone.
It is possible to stop or even reverse this hair loss if treated early on. However, at a certain point, the hair follicle also loses attachment to the small muscles in the skin and hair loss becomes permanent. 
Our top physicians regularly prescribe finasteride (generic Propecia®) to treat male pattern hair loss. This medication helps patients maintain the hair they have or possibly even regrow hair they have lost.
Another treatment option is minoxidil (generic Rogaine®), an over-the-counter topical treatment, to slow or even stop hair loss at the crown of the head.
Your physician or wellness specialist may recommend the use of finasteride combined with minoxidil topical solution 5%.
It generally takes three to four months of daily use to start seeing visible changes. Minoxidil and finasteride treatments can take up to a year to yield  maximum results. To sustain benefits, you have to continue using hair loss medication. If you stop, your hair loss may return.

Advanced Hair Restoration Foam
Has unwanted hair loss heightened your emotions and weakened your confidence?  If hair loss is affecting you, we can help with FDA-approved treatments. Our knowledgeable and friendly physicians and elite wellness specialists are here to evaluate your specific situation and guide you down the best path towards hair restoration.

The Solution to Your Hair Loss
Unwanted hair loss is common among people of all ages. Transcend's hair restoration specialists can guide you through the, sometimes, multi-tiered process and get you on your way to enjoying a fuller, more beautiful, and healthier head of hair. If you already know what medications you need, just put them in your wishlist cart and talk to your wellness specialist about them. You're on your way to a better head of hair.

Oral Hair Growth Medications
FDA-approved oral medications such as Finasteride and Minoxidil are popular and highly effective treatments that have been shown to help regrow hair. Our knowledgeable and friendly physicians will evaluate your specific situation and guide you down the best path towards hair restoration.

Frequently Asked Questions and Answers about Hair Loss Treatments

Sexual wellness encompasses many aspects of your lifestyle. Better hair, healthy skin, better muscle tone, and proper weight management can build your confidence and elevate your's and your partner's sex lives!
The elite wellness specialists and physicians at Transcend provide comprehensive solutions for addressing and properly treating hair loss, improving muscle tone, advancing your skincare regimen, and more!
Get started now with complete lifestyle solutions from Transcend.
You'll feel better than ever and your partner will thank you!
Transcend is expanding healthcare access for age management, sexual wellness, hormone therapy, weight-loss & non-surgical hair-loss treatments. Whether looking to treat a condition or simply looking to optimize your health, our knowledgeable staff will listen intently ensuring you receive the best care on the cutting edge of medical science.
The Transcend approach is transparent and simplified for our patient's convenience, there are no monthly charges and we have plenty of affordable options, ensuring all have access to non-traditional advanced medicine.
Transform your body and mind with advanced lifestyle solutions from Transcend.
Transcend is a licensed non-diagnostic preventative health care provider. Our doctors and medical staff directly prescribe all required tests and review and confirm all test results. We may also perform physical exams, consult with primary physicians, and validate and verify submitted medical information. Patients who are found to have issues and symptoms of a legitimate medical and/or health condition are referred to a medical specialist in the specific required field for diagnosis and treatment in a specialized and monitored program. Transcend reserves the right to recommend and use internal and/or external medical specialists for any patient. All patient information will be protected under governing HIPPA rules and regulations. Transcend is not an internet pharmacy and does not dispense, ship, or distribute medications from our facility or website. Any and all medication prescribed by our doctors and/or associated medical will be dispensed from a US FDA-approved pharmacy. All patients are required to fulfill and follow all of the medical instructions and procedures prescribed by doctors and contact us immediately if they have any problems. Patients who are found to have submitted fraudulent information will be terminated from any health program offered by Transcend. Any medication prescribed is only for the use of the patient and is not to be transferred, distributed, modified, or used by any other person(s).